Like many others nationwide, we've been looking at our calendar for the last several weeks in anticipation of summer. Thankfully, we're in the final stretch and ready for fun in the sun. In the spirit of the new season, we turn our attention to one of Colorado's premier summer destinations, Lake Dillon, where Effortless Stay has many nearby vacation rentals in Frisco, Silverthorne, and Breckenridge.
Lake Dillon: An Outdoor Enthusiast's Playground
Ask anyone who lives near or frequents Lake Dillon what to do there, and they'll probably ask, "How long will you be around?" That's because there are seemingly endless activities ranging from fishing to golf. You could be busy for weeks! And if you plan on staying in the area for any amount of time, we've got the inside scoop on the best things to do. Whether traveling solo, with that special someone, or with a crew of friends or family, you'll undoubtedly stay busy.
Fishing on and near Lake Dillon
Lake Dillon, also known as Dillon Reservoir, boasts more than 26 miles of shoreline amid alpine scenery, the perfect setting for an unforgettable angling adventure. And although salmon and trout are the fan favorites, fishermen and women will find a diverse population, including crappie, catfish, pike, and walleye. Moreover, there are several other places to fish within an hour or two and many fly shops and guide services. 
3 Quintessential Colorado Hiking Trails
Hiking in Colorado is some of the best in the world, and Lake Dillon is no exception with its breathtaking mountain vistas, iconic woodlands, majestic waterfalls, and picturesque wildlife. The "Old Dillion Reservoir Trailhead" is an easy 1.7-mile loop offering a captivating view of the Tenmile Range. For a moderate challenge, the "Salt Lick Trail" near Silverthorne is a five-mile out-and-back traversing an alpine river and several other connector corridors throughout. Finally, for those looking to sweat the day away—or camp—the "Willow Creek and Salmon Lake Trail" is nearly 17 miles of solitude and wildlife embedded in the Eagles Nest Wilderness in White River National Forest.
Fun on the Fairways
If you're in the mood for a little leisurely competition, there are several disc golf courses and one nationally recognized traditional golf course. For the traditionalists, Raven Golf Club at Three Peaks is arguably one of the best courses in Colorado, if not the U.S. It has all the features you want in a championship course—immaculate landscaping, jaw-dropping scenery, and PGA-rated staff. Otherwise, if you're looking for a more laid-back and budget-friendly flavor of golf, Frisco Peak One Disc Golf Course and Lake Dillon Disc Golf Course are excellent choices.
"The World's Highest Deep-Water Marina"
Offering just about everything you could want that has to do with water, the Dillon Marina is, according to their website, "Your ticket to fun on and off the water." SUP and kayak rentals? Check. Boat Rentals and tours? Check. Sailing school? Check. Lakeside dining? Check. There isn't much else we can say about the Dillon Marina other than be safe and have fun!
Biking near Lake Dillon
Like hiking in Colorado, biking is an excellent way to immerse yourself in Colorado's scenic splendors. The Summit County Recreational Path is an extensive paved network of smooth, accessible trails stretching miles, providing an ideal playground for bikers. Embark on an exhilarating two-wheeled adventure from Dillon, venturing beyond Frisco and to Swan Mountain's enchanting landscapes. 
The Soda Park Loop awaits novice riders for an exciting step beyond the path, offering a delightful 10.7-mile journey through gentle slopes and picturesque hillsides. Begin your expedition at the rec path parking area off Swan Mountain Road, and as you ascend an unmarked trail, traverse Keystone Ranch Road. Eventually, you'll reach the junction where Soda Ridge Road converges with the Keystone Aqueduct Trail, an intersection that marks an incredible biking experience.
The Pinnacle of Colorado Mountain Vacation Rentals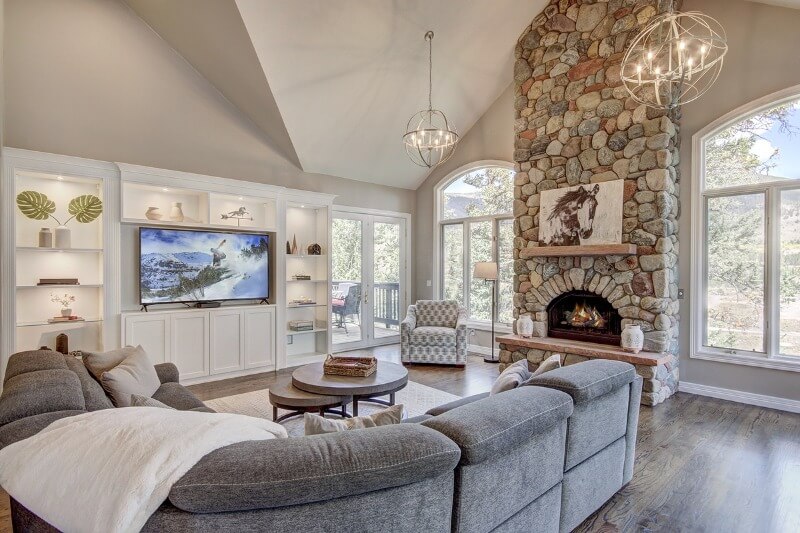 The outdoor recreation opportunities around Lake Dillon are astounding. Still, if you plan on making the most of your time, you'll want a nearby place to stay along the same echelon as these fantastic activities. And that's where Effortless Stay comes in. With top-tier vacation rentals in Frisco/Silverthorne and Breckenridge, you're bound to find your base camp for an unparalleled mountain escape with Effortless Stay!